 NAAKPA is an alliance of Aboriginal-owned companies supplying Kakadu Plum fruit and extracts for the Australian market
The Northern Australia Aboriginal Kakadu Plum Alliance (NAAKPA) is a consortium of Aboriginal enterprises ethically harvesting and processing Kakadu Plum across Northern Australia.
Kakadu Plum (terminanlia fernandiana) is considered a superfood with high antioxidant properties and the highest known levels of Vitamin C content of any fruit.
Aboriginal communities and families have been harvesting and using Kakadu Plum for many millenia. During that time, they have acquired detailed knowledge of the plant's characteristics, growing patterns and uses, and have woven this into their traditional knowledge.
Aboriginal communities and families have and continue to nurture the natural environment where Kakadu Plums and other native foods flourish, in contrast to the unprotected land which has been cleared for cereal crops and grazing.
By supporting NAAKPA, you are contributing to the wellbeing of Aboriginal communities in Northern Australia and have the opportunity, to learn their story and taste the fruit of their country.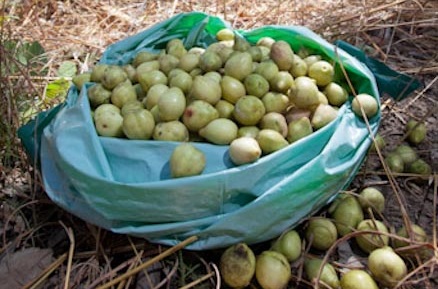 NAAKPA Objectives
NAAKPA was established to protect the interests of Aboriginal enterprises and communities in the Kakadu Plum industry. It aims to encourage ethical sourcing of native fruit while protecting the interests of Aboriginal communities and their traditional knowledge. The alliance is managed by a Steering Committee consisting of representatives from each Aboriginal enterprise. Key objectives include:
• Become industry leaders in the research, harvest, processing and marketing of Kakadu Plum/Gubinge by empowering Aboriginal enterprises and families across northern Australia to draw on land assets and intellectual property (Traditional Ecological Knowledge) within their communities;
• Support community harvesting and processing enterprises and linking these directly to large scale markets and consumers by establishing an Aboriginal controlled supply and value chain Alliance;
• Promote the products produced by Alliance members, to create commercial advantage and opportunities;
• Share aspects of traditional, emerging knowledge and information about orchards, plantations, wild harvest technologies within the Alliance to build capacity and ensure continuity in cultural practices;
• Provide advocacy for Alliance members;
• Respect the privacy and commercial confidence of each individual Alliance member, and treat them as an independent enterprise collaborating in an Alliance;
• Establish best practice models/protocols in managing access to country and enable an economy that takes into account social and cultural protocols and legal obligations;
• Establish a framework to protect and access biocultural knowledge and intellectual property in the bush plant resources space on behalf of Alliance members;
• Establish mechanisms to ensure benefit sharing through real partnerships with academic research projects regarding kakadu plum/gubinge and to provide joint ownership of intellectual property established through this research.
The Northern Australia Aboriginal Kakadu Plum Alliance was made possible with the support of the Indigenous Land and Sea Corporation.