 A boost for Gubinge- The Kimberley's superfood
Mamabulanjin Aboriginal Corporation was awarded $100,000 to establish a two hectare commercial orchard and trial research site for Kakadu Plum (Gubinge) just outside of Broome. The Grant is part of the McGowan Government's Regional Economic Development (RED) Grants scheme to support exciting regional initiatives to grow regional areas into thriving and sustainable communities.
The grant follows on Mamabulanjin's investment of $200,000 into establishing a flagship Research and Development program, targeted at demonstrating best practice for developing native species for commercial orchard production through a Kakadu Plum (Gubinge) Knowledge Centre.

The long term vision is to establish, supply, process and market 100 tonnes per annum of Kakadu plum (Gubinge) with unique marketing brands by 2028. This includes establishing a processing facility in Broome to support income generation from the wild harevest across the Dampier Peninsula and to integrate this with long term employment and careers for local Aboriginal people.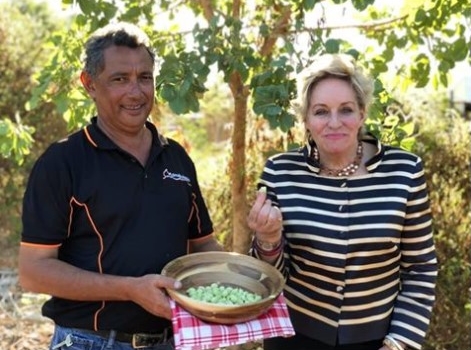 Photo: Neil Gower Mamabulanjin's CEO with Minister Alannah McTiernan in Broome, May 24, 2019